ColorLite sph870/sph900 for measurement of powder
Portable Spectrophotometer
ColorLite sph870/ sph900
With accessories for measurement of powder
There are various possibilities for the measurement of powders and pigments.
Measurement in the cuvette
Measurement in tablet form
Advantages of the cuvette
Fast and accurate measurement in 0.5 seconds
No sample preparation necessary
Easy cleaning
Advantages of pressed tablets

Measurement of a perfectly flat surface
Highly accurate – best reproducibility
IP-67 probe head for protection against contamination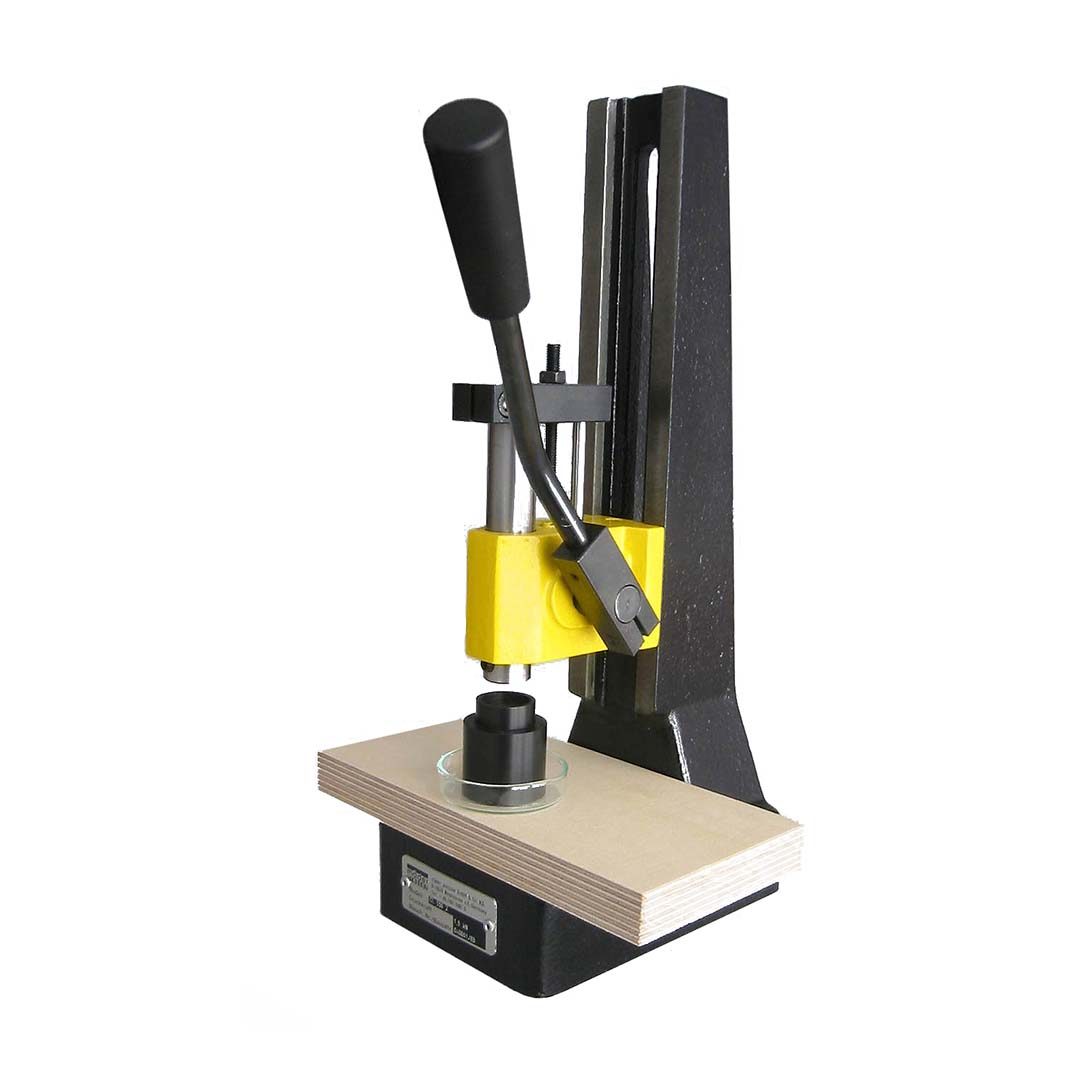 Powder press for tablet measurement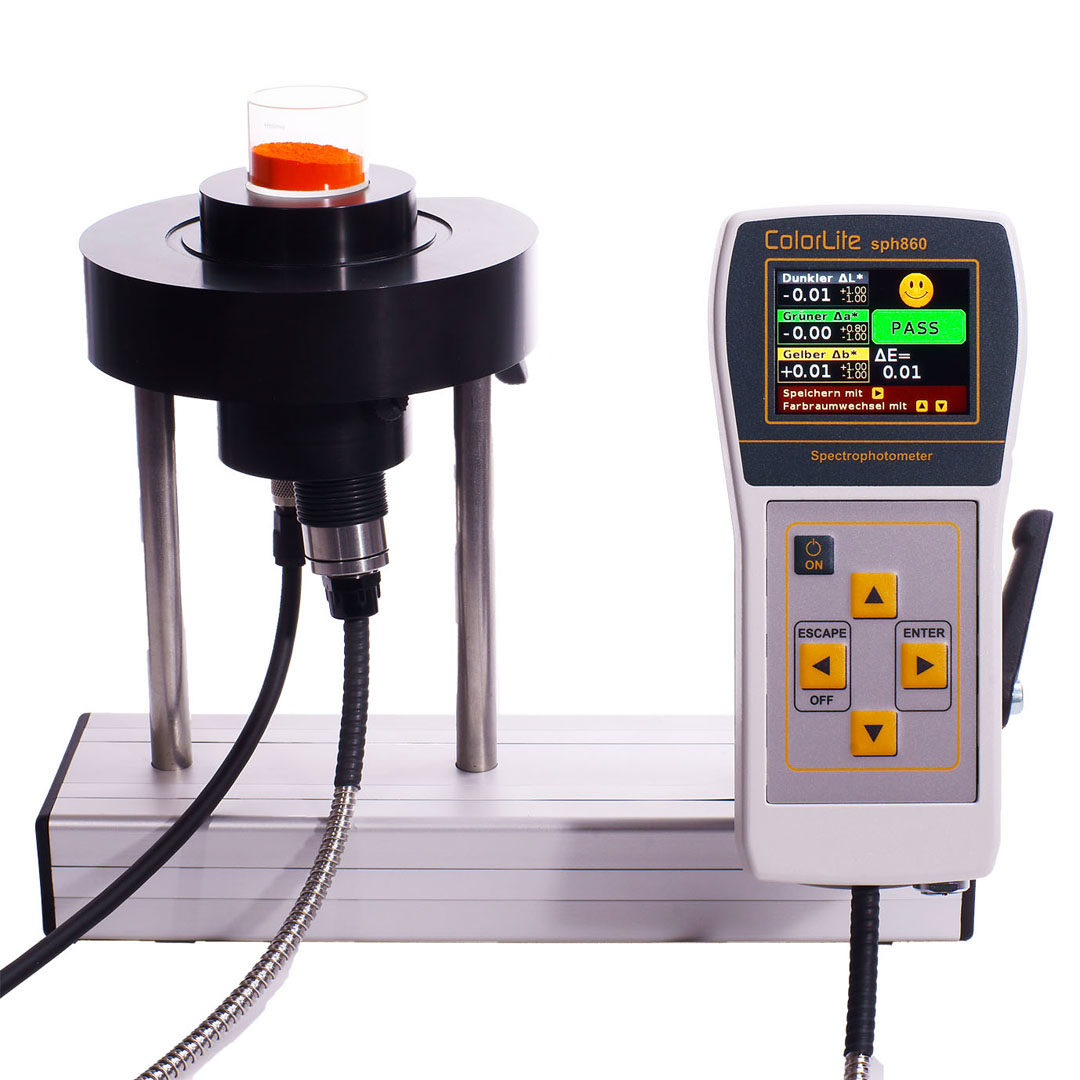 Description
The ColorLite sph900 has a trend-setting O-LED colour display and an intelligent interface that automatically detects connected accessories. This makes the measuring system very flexible and suitable for a large number of measuring applications. By using the integrating sphere adapter MA35 it is possible to measure both standard measuring geometries – 45°/0° and d/8° – with only one spectrophotometer. The sph900 spectrophotometer was developed by using only high quality components and complies with all current ASTM and DIN standards.
Applications
Colour measurement and registration of goods intake and goods output according to DIN EN ISO 9000 standard
Objective quality control of colours within a production
Colour difference measurement to reference colours stored on the device
The delivery includes
Certified white standard PTB (Bundesanstalt für Materialforschung)
Aluminium case with foam padding
USB interface cable
Temperature controlled battery charger
User manual
Measurement Geometry
45°/0° (area 3,5 mm) - or d/8° version -
according to DIN 5033
Optional: 45°/0° AND d/8° with
MA35-UK Adapter
or d/0° with MA38-Adapter
Illuminants
D65, D55, D50, A, C, F11
Standard Observer
2° and 10°
Colour Scales
XYZ, Yxy, ΔE CIE L*a*b*, L*u*v*, L*C*h, Hunter Lab
Remission Spectrum with cursor displaying wavelength and % CIE-L*a*b* Diagram incl. tolerance limits
Quality Control
Tolerance Limits and Colour Differences
ΔE CIELab; ΔL, Δa, Δb; ΔL, Δu, Δv; ΔL, ΔC, Δh;
Min/Max, PASS/FAIL, ΔECMC (1:1 und 1:2), CIE ΔE94,
ΔE2000, dynamic index
Metameric-Index for D65/A and D65/F11 according to DIN 6172

Other Values
Contrast: LRV (Light Reflectance Value) according to BS 8493:2008,
Various White-Index values
Various Yellowness-Index values
Grey-Index
Hazen/APHA; JOD - (CA10-LS Adapter needed)
Spectral Light Source Measurement
Spectra and chromaticity measurement of light sources such as LED´s - optional
Sample Photos
350 Colour photos to visualise scanning area
Dimension: 160 x 120 Pixel
Spectral Range/ Wavelength
400 nm to 700 nm
Spectral Resolution
Holographic grating-Spectrometer
FWHM @500 nm < 10 nm
Scanning in 3,5 nm intervals
Resolution: 115 x 16-Bit per scan

Display
High resolution O-LED colour display: High contrast and
low-Power 1/4-VGA, 320 x 240 Pixel

Repeatability
< 0,03 ΔE CIELab
Light Source
White and blue LED´s
Life span > 20 years
Automatic Accessory Recognition
An accessory is detected and device settings automatically modified accordingly
Ambient temperature

15 °C to 45 °C
Relative humidity
max. 85% not-condensing