Portable Spectrophotometer
ColorLite sph xs1
The ultra mobile compact solution – 
Easy Colour and 60° gloss measurement
Advantages
45°/0° colour measurement and 60° gloss measurement with one device
Worldwide communication of real-time measurement data directly via WiFi or Bluetooth 4.0
Optional: Integrated data matrix scanner
It's so easy: Scan QR / barcode – measure sample – save data
High powered LED-light source with an optimal life span
Perfectly simple handling through intuitive user interface
Memory space for 1000 standards and 350 sample photos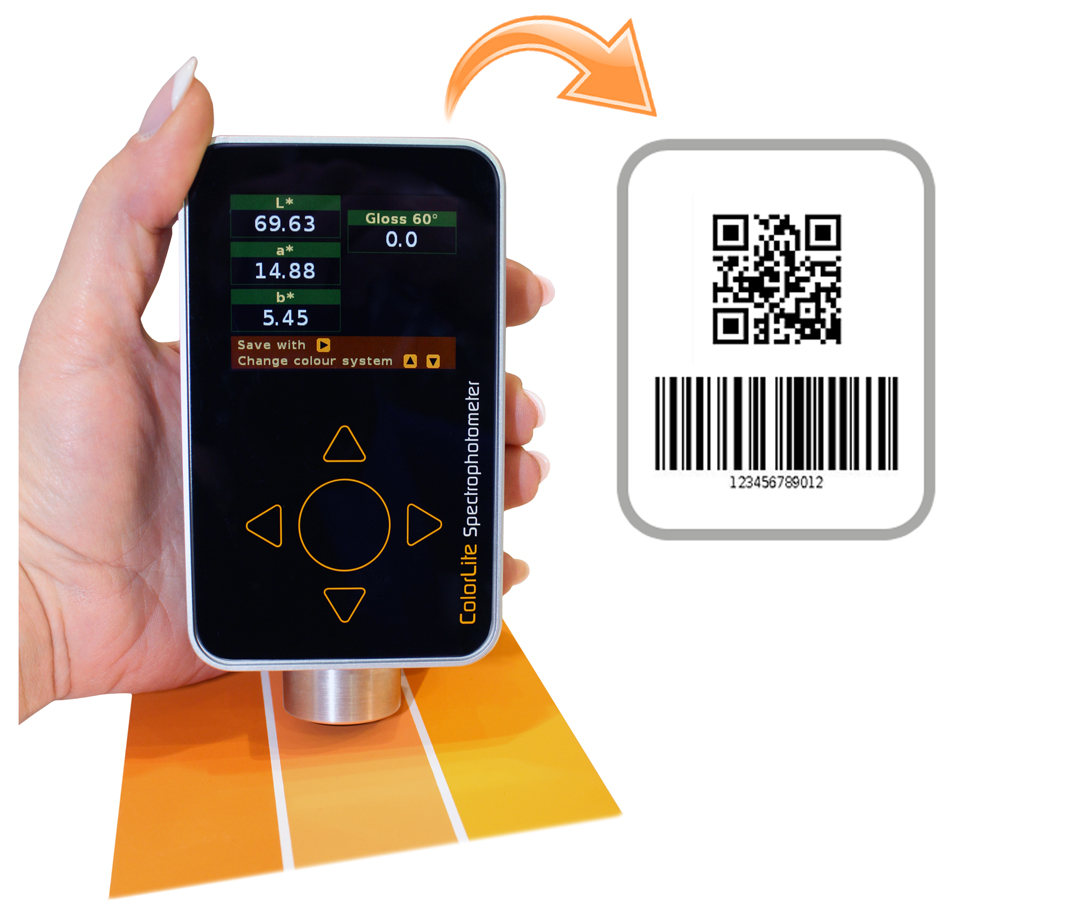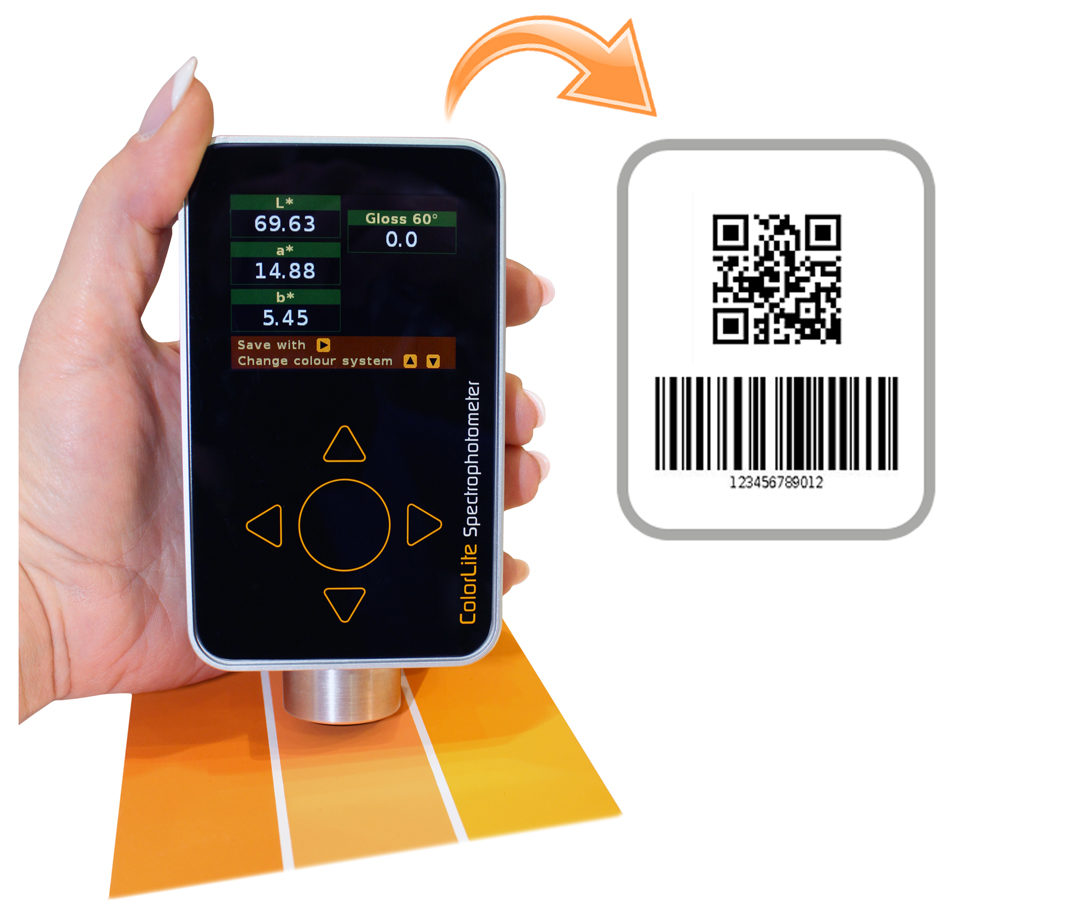 The mobile sph xs1 with QR / barcode scanner
Simply scan the sample ID, lot number or employee ID from the production order.  A label printer can also be connected via Bluetooth and measured values ​​can be printed out immediately.
Best solution to optimize processes and improve traceability.
Description
ColorLite present a new "state of the art", ultra mobile, 45°/0° geometry, high resolution spectrophotometer in a pocket format. Connect direct to your colour reference database from anywhere in the world, using wireless LAN or tether to your smart phone with Bluetooth V4.0
The small sized instrument, made in Germany from a solid aluminium block, weighs just 270g. It is equipped with the latest high-definition technology allowing a high resolution spectral scan in 3.5nm steps in less than 1 second. The brilliant colour high contrast O-LED display makes a perfect user interface. The menu is simple and clear, so anyone can perform measurements fast and accurate. A further unique feature of the ColorLite XS1 is the integrated data-matrix and barcode camera. This allows for fast effect sample identification and management.
Applications
Colour measurement and registration of goods intake and goods output according to DIN EN ISO 9000 standard
Objective quality control of colours within a production
Colour difference measurement to reference colours stored on the device
 The delivery includes

Certified white standard PTB (Physikalisch-Technische Bundesanstalt)
Aluminium case with foam padding
USB interface cable
Battery charger
Printed and CD user manual
Measurement Geometry
45°/0° according to DIN 5033
Illuminants
D65, D55, D50, A, C, F11
Measuring area
3,5 mm
Colour Scales
XYZ, Yxy, ΔE CIE L*a*b*, L*u*v*, L*C*h, Hunter Lab
Remission Spectrum with cursor displaying wavelength and % CIE-L*a*b* Diagram incl. tolerance limits


Quality Control
Tolerance Limits and Colour Differences


ΔE CIELab; ΔL, Δa, Δb; ΔL, Δu, Δv; ΔL, ΔC, Δh;
Min/Max, PASS/FAIL, ΔECMC (1:1 und 1:2), CIE ΔE94,
ΔE2000, dynamic index
Metameric-Index for D65/A and D65/F11 according to DIN 6172

Other Values
Contrast: LRV (Light Reflectance Value) according to BS 8493:2008,
Various White-Index values
Various Yellowness-Index values
Spectral Light Source Measurement

Spectra and chromaticity measurement of light sources such as LED´s - optional

Sample Photos
350 Colour photos to visualise scanning area
Dimension: 160 x 120 Pixel
Spectral Range/ Wavelength
400 nm to 700 nm
Spectral Resolution
Holographic grating-Spectrometer
FWHM @500 nm < 10 nm
Scanning in 3,5 nm intervals
Resolution: 115 x 16-Bit per scan



Display
High resolution O-LED colour display: High contrast and
low-Power 1/4-VGA, 320 x 240 Pixel

Gloss value
60° according DIN EN ISO 2813 (old DIN 67530)
Camera
Data-Matrix and Barcode-Scanner - optional
Repeatability
< 0,03 ΔE CIELab
Light Source
White and blue LED´s
Life span > 20 years

Scanning Time
Complete measurement cycle with
calculation and readout time. < 1sec
Multiple Scanning
Mean calculation of 1 to 20 individual measurements with colour values and standard deviation statistics displayed
Memory
Memory for 1000 standard colours
Memory for 1000 colour values
Memory for 300 spektra (400-700nm / 3.5nm)
Memory for 350 sample-photos (160 x 120 Pixel)

Calibration
With white standard certified by the PTB
(Physikalisch-Technische Bundesanstalt)
Optional - 2 stage calibration with working standards
Power Supply
Lithium Polymer-Akku
Charging time 1,5 hours
Standard
Colour Management
Standards loaded by
- list with Best-Match tool
- index-no.
- entering name

PC and Internet Connection
USB 2.0
Bluetooth© or WLAN

Dimensions
Device with battery:
120mm x 70mm x 32mm
270g

Ambient temperature

15 °C to 45 °C
Relative humidity
max. 85% not-condensing