Portable Spectrophotometer
ColorLite sph xs1
The ultra mobile compact solution – 
Easy Colour and 60° gloss measurement
Advantages
45°/0° colour measurement and 60° gloss measurement with one device
Worldwide communication of real-time measurement data directly via WiFi or Bluetooth 4.0
Optional: Integrated data matrix scanner
It's so easy: Scan QR / barcode – measure sample – save data
High powered LED-light source with an optimal life span
Perfectly simple handling through intuitive user interface
Memory space for 1000 standards and 350 sample photos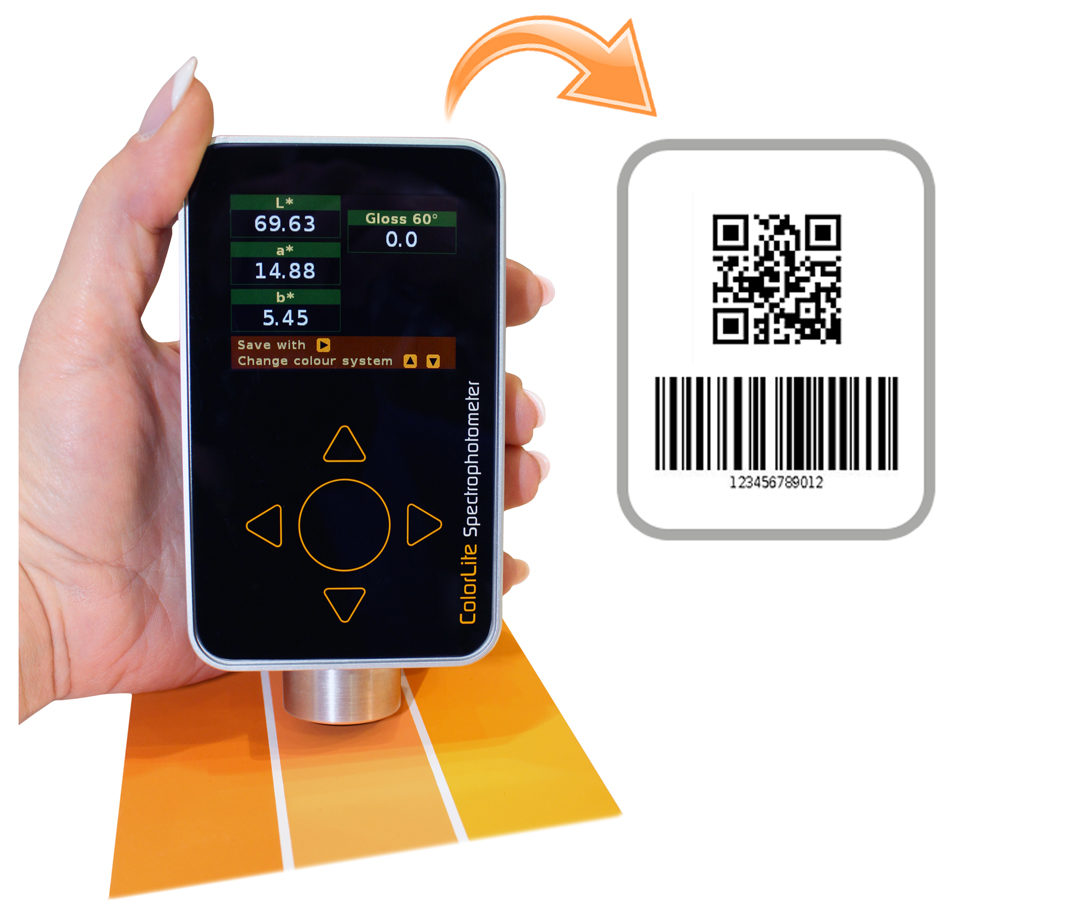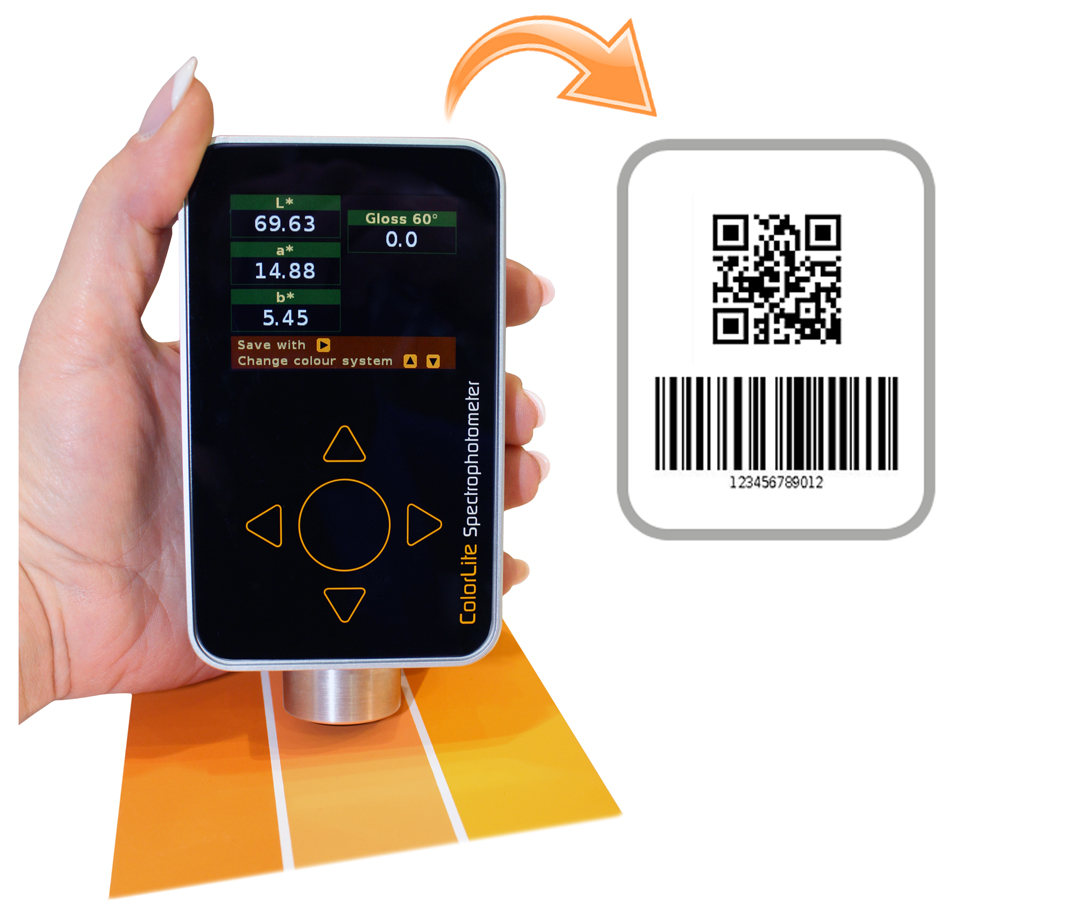 The mobile sph xs1 with QR / barcode scanner
Simply scan the sample ID, lot number or employee ID from the production order.  A label printer can also be connected via Bluetooth and measured values ​​can be printed out immediately.
Best solution to optimize processes and improve traceability.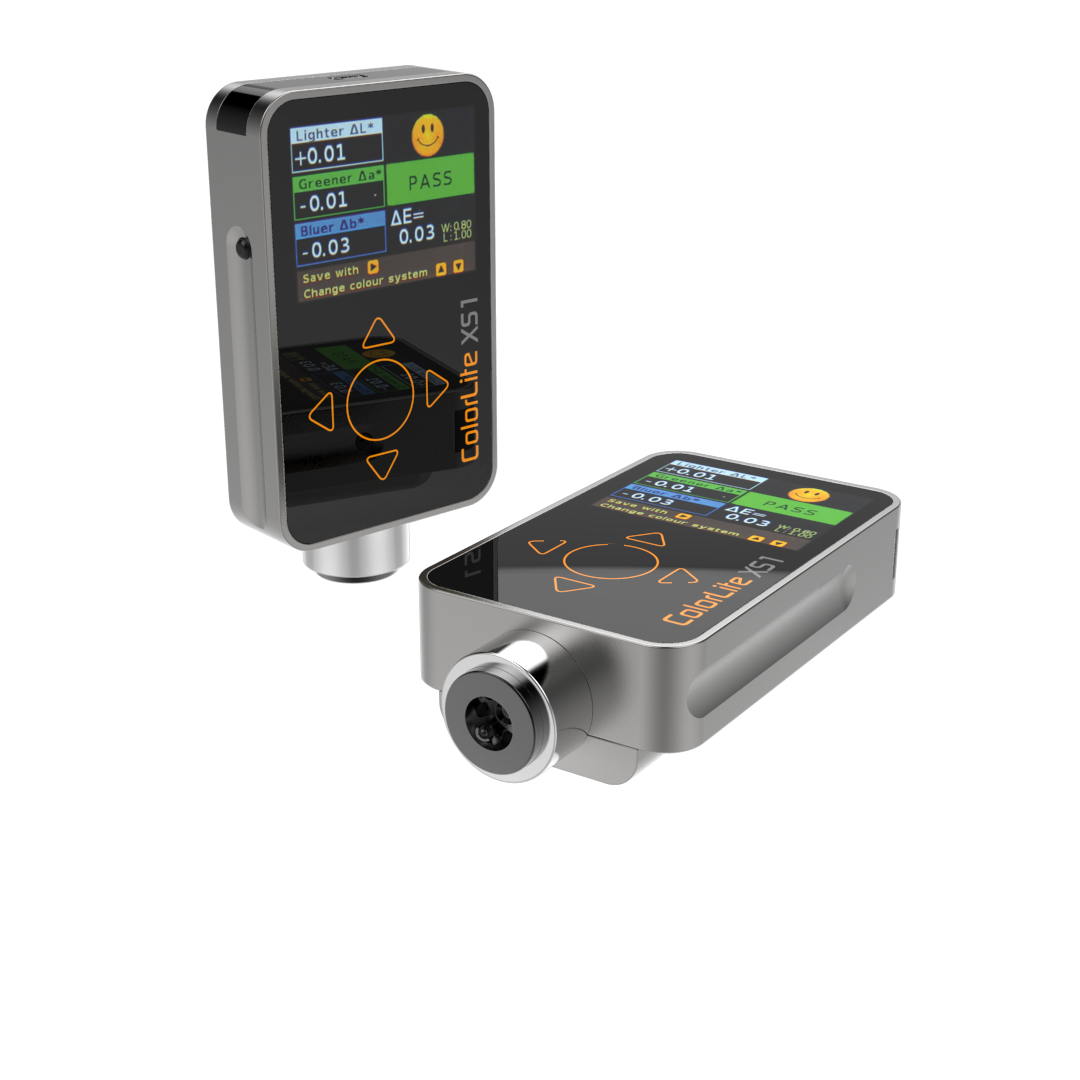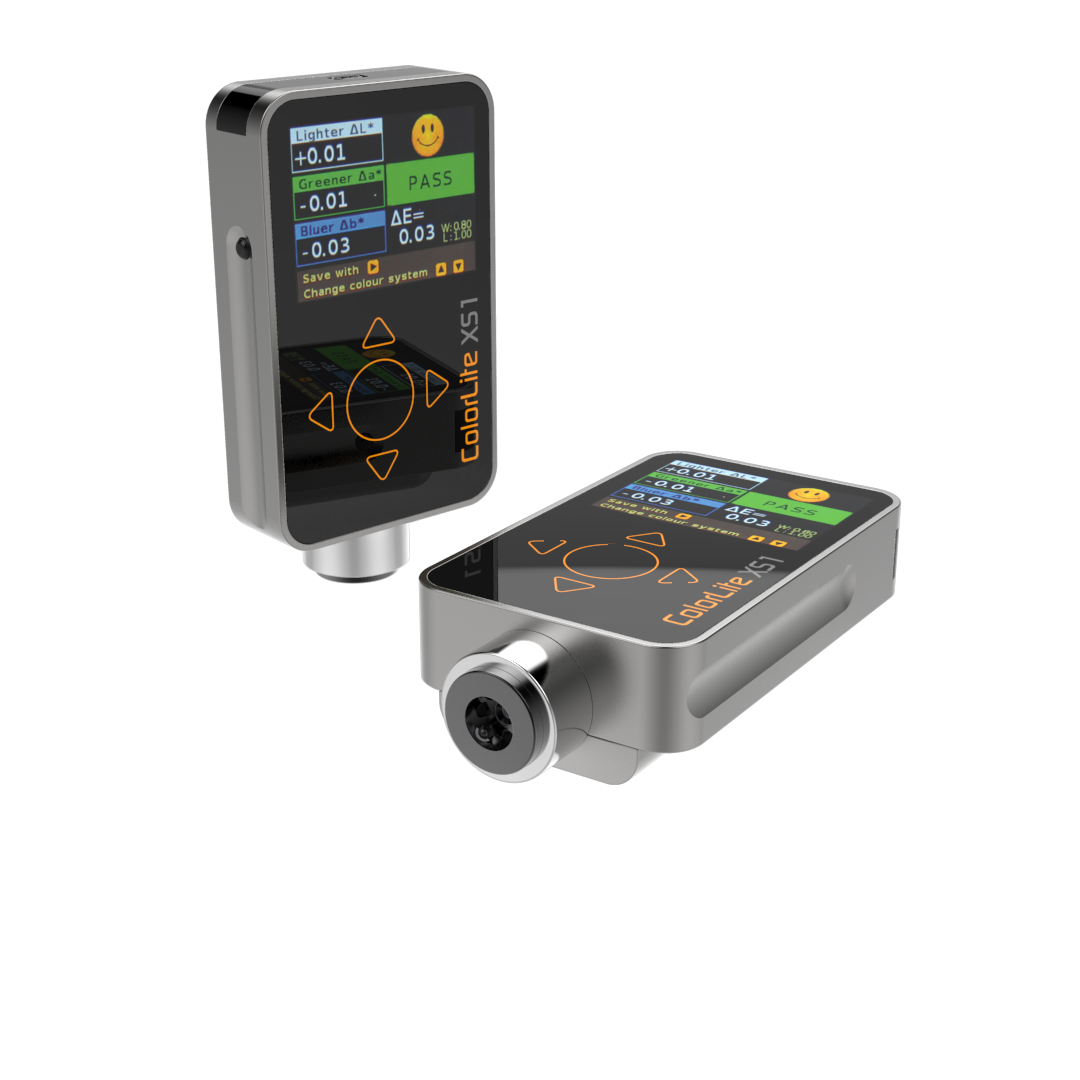 Description
ColorLite present a new "state of the art", ultra mobile, 45°/0° geometry, high resolution spectrophotometer in a pocket format. Connect direct to your colour reference database from anywhere in the world, using wireless LAN or tether to your smart phone with Bluetooth V4.0
The small sized instrument, made in Germany from a solid aluminium block, weighs just 270g. It is equipped with the latest high-definition technology allowing a high resolution spectral scan in 3.5nm steps in less than 1 second. The brilliant colour high contrast O-LED display makes a perfect user interface. The menu is simple and clear, so anyone can perform measurements fast and accurate. A further unique feature of the ColorLite XS1 is the integrated data-matrix and barcode camera. This allows for fast effect sample identification and management.
Applications
Colour measurement and registration of goods intake and goods output according to DIN EN ISO 9000 standard
Objective quality control of colours within a production
Colour difference measurement to reference colours stored on the device
 The delivery includes

Certified white standard PTB (Physikalisch-Technische Bundesanstalt)
Aluminium case with foam padding
USB interface cable
Battery charger
Printed and CD user manual
Measurement Geometry
45°/0° according to DIN 5033
Illuminants
D65, D55, D50, A, C, F11
Measuring area
3,5 mm
Colour Scales
XYZ, Yxy, ΔE CIE L*a*b*, L*u*v*, L*C*h, Hunter Lab
Remission Spectrum with cursor displaying wavelength and % CIE-L*a*b* Diagram incl. tolerance limits


Quality Control
Tolerance Limits and Colour Differences


ΔE CIELab; ΔL, Δa, Δb; ΔL, Δu, Δv; ΔL, ΔC, Δh;
Min/Max, PASS/FAIL, ΔECMC (1:1 und 1:2), CIE ΔE94,
ΔE2000, dynamic index
Metameric-Index for D65/A and D65/F11 according to DIN 6172

Other Values
Contrast: LRV (Light Reflectance Value) according to BS 8493:2008,
Various White-Index values
Various Yellowness-Index values
Spectral Light Source Measurement

Spectra and chromaticity measurement of light sources such as LED´s - optional

Sample Photos
350 Colour photos to visualise scanning area
Dimension: 160 x 120 Pixel
Spectral Range
400 nm to 700 nm
Spectral Resolution
Holographic grating-Spectrometer
FWHM @500 nm < 10 nm
Scanning in 3,5 nm intervals
Resolution: 115 x 16-Bit per scan



Display
High resolution O-LED colour display: High contrast and
low-Power 1/4-VGA, 320 x 240 Pixel

Gloss value
60° according DIN 67530
Camera
Data-Matrix and Barcode-Scanner - optional
Repeatability
< 0,03 ΔE CIELab
Light Source
White and blue LED´s
Life span > 20 years

Scanning Time
Complete measurement cycle with
calculation and readout time. < 1sec
Multiple Scanning
Mean calculation of 1 to 20 individual measurements with colour values and standard deviation statistics displayed
Memory
Memory for 1000 standard colours
Memory for 1000 colour values
Memory for 300 spektra (400-700nm / 3.5nm)
Memory for 350 sample-photos (160 x 120 Pixel)

Calibration
With white standard certified by the PTB
(Physikalisch-Technische Bundesanstalt)
Optional - 2 stage calibration with working standards
Power Supply
Lithium Polymer-Akku
Charging time 1,5 hours
Standard
Colour Management
Standards loaded by
- list with Best-Match tool
- index-no.
- entering name

PC and Internet Connection
USB 2.0
Bluetooth© or WLAN

Dimensions
Device with battery:
120mm x 70mm x 32mm
270g

Ambient temperature

15 °C to 45 °C
Relative humidity
max. 85% not-condensing
45/0° probe head – like the eye see´s it
The 45°/0° measuring geometry is standardised in DIN standard 5033. The sample is illuminated at an angle of 45° with a direct light source and the reflected light is measured at 0°. The Measurements of this measurement geometry come closest to the vis…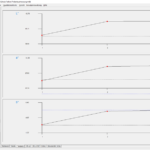 ColorDaTra Professional
The ColorDaTra-database program is a very easy to use tool to evaluate analyse protocol your colours Basic function: Archiving of reference colours as standard Visualization of production models as CIE L * a * b * absolute and relative values an…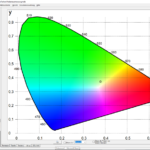 ColorDaTra Basic
The ColorDaTra-database program is a very easy to use tool to evaluate analyse protocol your colours Basic function: Archiving of reference colours as standard Visualization of production models as CIE L * a * b * absolute and relative values an…
ActiveX – Communication tool
A list of commands in an ActiveX DLL library enables you to communicate with the spectrophotometer from your software.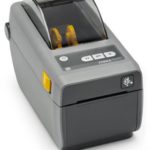 Printer Zebra ZD410
203 dpi Thermo-Barcode-Label Printer USB Bluetooth (BTLE – low energy, WIFI (802.11ac) Bluetooth v4.1, USB-Host, black Including a customer specific printed layout adaption.
Protective bag for sph xs1
Protection by foiled display. Velcro fastener, slightly upholstered, with length adjustable and removable shoulder strap.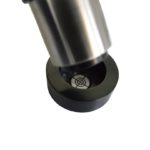 Target device TD4
For positioning probe head on very small areas, measuring spot 3,9mm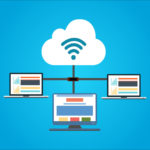 The OEM-Solution: Cloud Storage
Components (Automotive parts) are usually bought from all over the world from different suppliers. The parts are placed directly next to each other and the colour must match 100%. Problems with the colour are detected late in process and that causes ti…
60° Gloss Measurement according to DIN 67530
Why measuring gloss? The effect from gloss is much important for the visual colorimetry. The same black sample appears lighter with a matt finish than a glossy finish. So measuring the colour alone is often not enough. ColorLite offers the spectrophoto…
High contrast colour O-LED display
Super high contrast O-LED full colour display provides the perfect interface between the instrument and user – ensuring very simple handling reducing training time and increasing reliability. The 180° viewing angle of the O-LED display works without ba…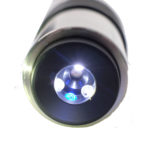 The perfect light source – LED's
"The light source of the future" LED's (Light Emitting Diodes) ensure an excellent long- and short-term stability of results and low maintenance costs. The pulse mode ensures that brightness levels stay high for a guaranteed 20 years.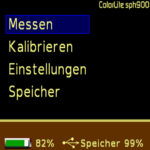 User friendly
Only 4 Main levels: Measure – Calibrate – Settings – Memory Simple 4 button control. Real photos explaining things step-by-step, for example the calibration routines.

Warning messages
Variable standard deviation threshold 0.01 to 2 for multiple scans Variable time dependent calibration warning 1h to 24h Variable temperature dependent calibration warning 0 to 9 When the difference between the standard and the sample is too high When…